About TVS
Mountain
Experience
Our goal is to provide a shop experience that fulfills all your needs through our knowledgeable and experienced staff. We aim to give each guest the experience of high level attention when it comes to gear selection and the answering of questions with answers garnered from a love of the mountain as well as countless years skiing at Jackson Hole among the staff.
We strive to make every encounter garner genuine comfort both on and off the mountain. Bringing the spirit of the mountain to newcomers and vets alike.
Elevated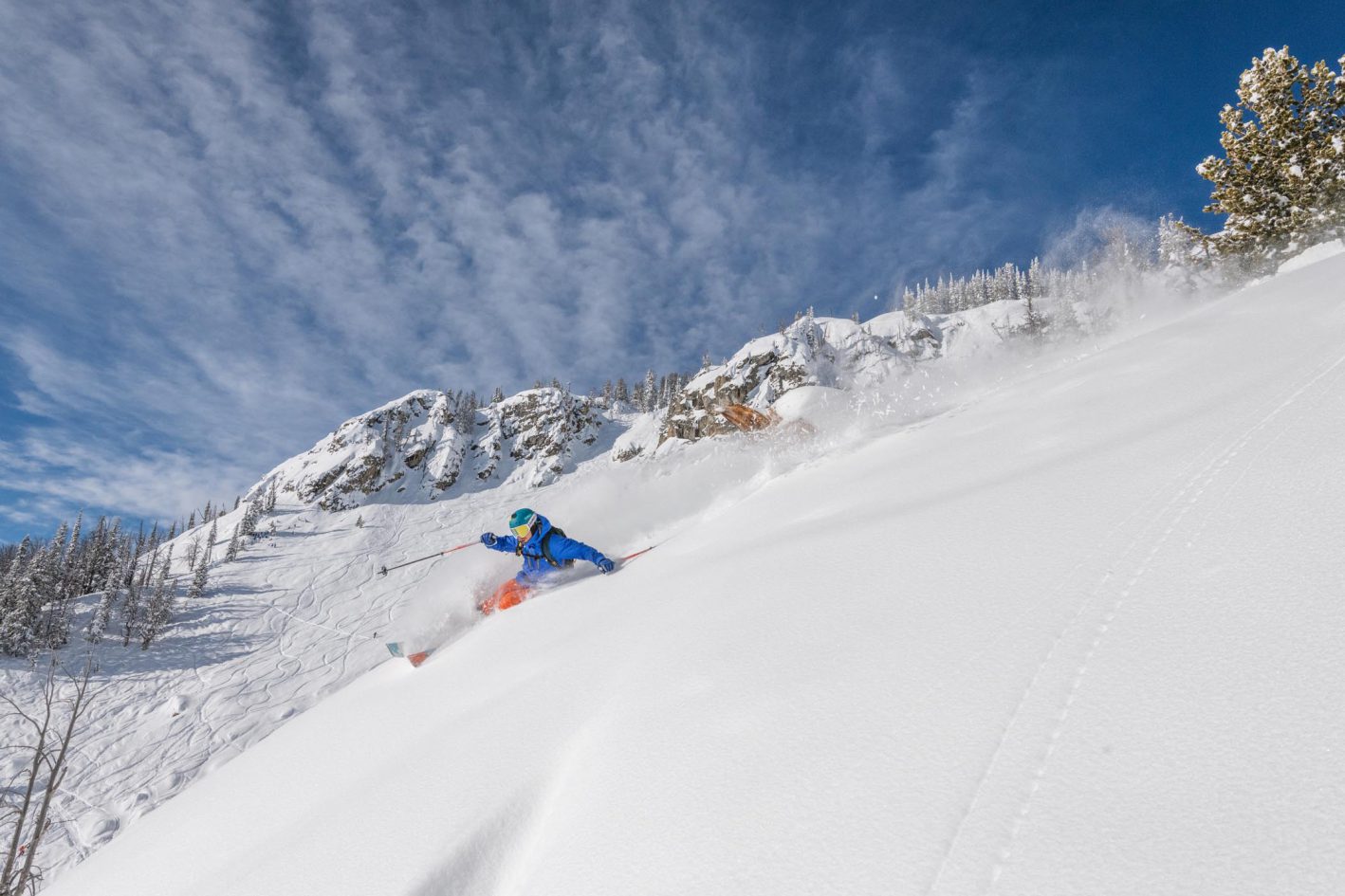 Testimonials
"The same crew that I trusted to mount and tune the skis I used on Everest in 2006 is still doing my mounting and tuning today.  Well over a hundred pairs of skis later, they're my shop of choice for personal service and excellent quality of work."
- Kit DesLauriers, First Person to Ski the Seven Summits, The North Face Global Athlete, US Ski and Snowboard Hall of Fame
"For 45 years I've shopped at TVS in the village and Hoback Sports in town. I like to hang out with the workers and listen to their ideas. After all, collectively they've spent hundreds of years employed in these two shops. Who else would better know the ways and means of our complex sport and the mountains we call home? They're friendly, too, and treat everyone the same, old guard and newbies alike."
- Wade McKoy, Published Ski and Adventure Travel Photographer Since 1978
"I always make a point to personally introduce my clients and friends to Braden and his crew at TVS. They take the time to learn what each individual likes in order to customize their experience. If there are any issues, we just ski down to the shop and they take care of it. It all adds up to our groups having a great experience on the steep and deep slopes of Jackson Hole."
- Andy Chambers, Jackson Native, Former US Ski Team Member, Mountain Sports School Instructor
"TVS is my go-to shop when I'm in Jackson Hole. It's location right at the base of the tram make it an easy stop. I'll also mention that the staff is par to none, lots of smiling faces, look out for Brian, he's one of my favorite Jackson locals! "
- Sierra Quitquit
"Teton Village Sports has been my go to, ski shop for years. They retain friendly, knowledgeable, professional people. It's exactly the kind of shop you want to go in when skiing. The staff is having fun and that always makes for a fun visit."
- Bill
"Enjoy the staff, always helpful and knowledgeable! Always satisfied with their service, wether it's boot fitting, ski repair or bike rentals for our company in the summer. The quality of merchandise is top notch! Looking forward to doing continued business and excited to see the remodeled store! "
- Kent
"TVS is my one stop shop for all things equipment. Everett and the boot crew have helped me dial in a number of different boot issues over the past few winters. I come into the shop panicked and in pain, they take 10 minutes in their boot workshop behind that magic swinging door and boom, I am on my way with WAY happier feet. Galen and the ski technician team are wizards at keeping my skis in running order. They have helped me come back from some pretty rugged core shots and other fun issues I have encountered over the years and they always mount my skis just right - Thanks for the fast wax and money footbeds TVS!"
- Caite
"The folks at TVS do a very nice job taking care of their customers. Most of the time everything is in order and there are no problems. If a problem does arise, they do their best to satisfy the customer and right the wrong. Selection of clothes, skis and boots is above average for an independent shop. They are more than happy to do special orders and the item usually arrives quickly. If you have not been inside since their remodel, you should take a look. The layout has changed, all for the better. Larger and more efficient rental/repair shop, better flow through the store. They did a very nice job with the remodel."
- Stephen S.
@Teton Village Sports
This error message is only visible to WordPress admins
Error: No feed found.
Please go to the Instagram Feed settings page to create a feed.